Sometime in late 2007, I walked into a Kawasaki dealership and bought a 2008 KLR 650 without even throwing a leg over. The choice was based on unrivaled simplicity and a price tag less than that of a Vespa, so what was to test anyway? All it would have to do was to take me to South America.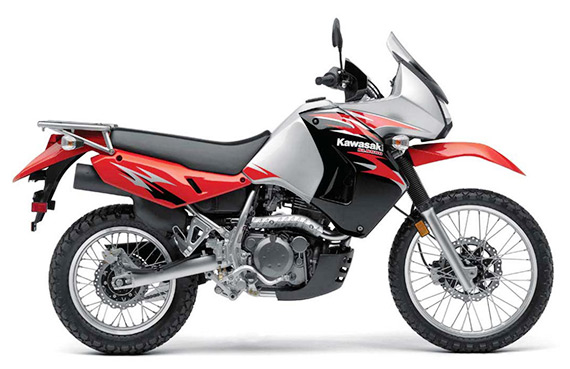 KLR, The Mature Machine
Truth is, I had tried the 650 KLR before, all the way back in 87 when it replaced the 600. But I was only 16, and the thumper had felt sluggish and absolutely gargantuan after my two-stroke RD125LC YPVS. I clearly remember thinking "why would anyone buy this?". Funny, how we get our answers.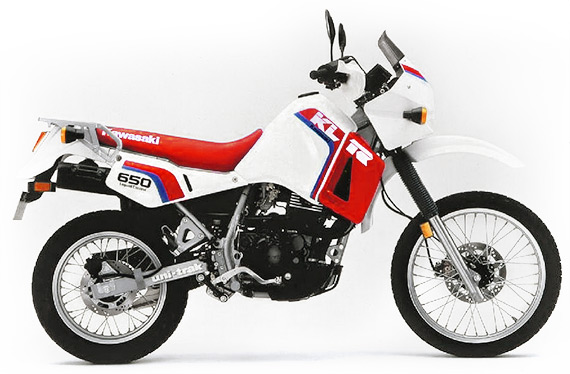 As purposeless as it may appear to a speed freak teenager, the KLR 650 has been a major success for Kawasaki, outliving motorcycles like the Tenere, DR Big, and even the Africa Twin. To become a casual addition to its success story, even I would end up owning one 20 years after dismissing it with a shrug. Actually, not just owning, but choosing one over BMW's legendary flagship, the R1200 GS!
Catching Up
But the 2008 model KLR I was taking back home was slightly different than the one I had ridden, representing Kawasaki's first revision to the bike since '87. It was still the same tall, slow, and spiritless thing in essence, but now, it at least wasn't as much of a relic anymore. Many of the changes were significant improvements, and were key to the bike's eligibility to join me on the trip down.
The new 2008 KLR 650 sported:
Beefier forks
Stronger wheels with thicker spokes
Better rear shock with a stiffer spring
Lower sag on both ends of suspension*
More powerful front brake*
Powerful headlight*
Modern electrical system that can handle auxiliary loads*
Standard fuses
Fairing for wind protection
Bar-end weights for reduced handlebar vibration
Slightly more powerful engine
* Key changes without which I would not have considered the KLR
I had mentioned elsewhere how the power of the GS had felt like a yawner after riding Hoover (my Speed Triple), so you can imagine my mood on CA 405 after picking up the KLR from the dealership. Perhaps the only thing that felt good about the bike was the tall seating and wide handlebars for a motocrosser stance, almost ready to ride over the traffic. Of course, the side effect of that was being able to touch the ground with the tip of only one foot, but nothing new there.
The good news is, everything is relative, and the KLR's performance only feels better as you adjust her in time. Fast forward to the curves climbing up to Tuxtla Gutierrez, I was having as much fun as riding the Latigo canyon on the Speed Triple.
Loaded
The next couple of months went by preparing Katırga (my KLR) for the long haul, and by the time we left LA, she was almost done with the break in. Once all the cargo and myself were on, the ground clearance was no more than a road bike's, which also meant I could now touch the ground with both feet! But very few solo travelers will be this heavy on a KLR. (and even fewer will need to be to touch the ground!) Mostly due to all the camera, computer, and rigging equipment on board, Kat was later weighed at 290 kgs. (638 lbs), fueled and loaded.
With all that weight, steering was even slower, but I neither had a problem with stability, nor with the rear bottoming out (much). Most importantly, the oem rear shock commendably withstood everything thrown at it throughout the journey. Nevertheless, upgrading to firmer springs would have made a world of difference in the right direction.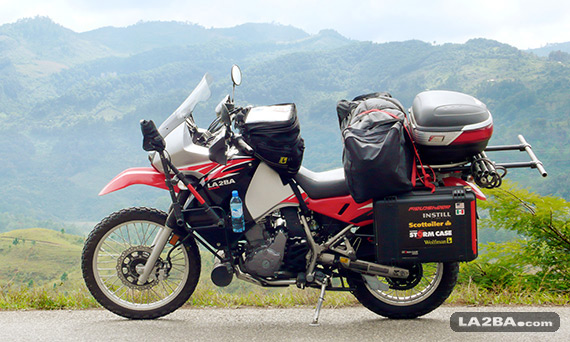 For a short while during the trip, I also rode two-up with about half the luggage, and that's where the KLR drew the line, dragging her tail and getting completely out of shape on curves. Unless both riders are light weight and no luggage is involved, I feel that the KLR really shouldn't be in a shopping list for two-up riding. This holds true even with upgraded suspension, because the extra weight brings the brakes to their limits as well.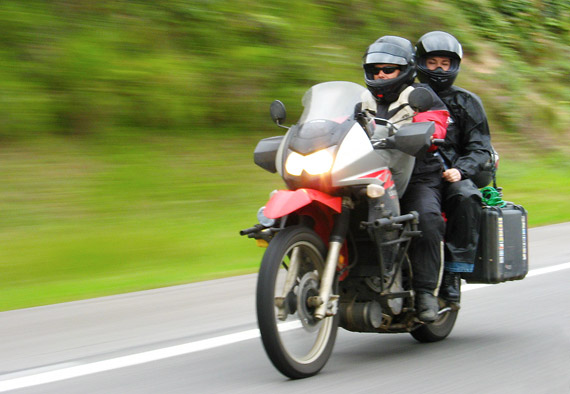 Comfort
As for ride comfort, the combination of a short rider, lowered seat, and the Kawasaki tall screen seemed to be a perfect combination. On cold rides, the KLR's oversized hand protectors proved priceless.
One thing that might be of concern when considering a single is vibration, and handlebar vibration in particular was a complaint among the users of the earlier model. I never rode with the new bar end weights removed to compare, but I'm guessing they are pretty effective because I didn't find the vibration objectionable for a single.
Inexpensive or Cheap ?
When you buy a 650cc motorcycle for less than $6K, you naturally adjust your expectations accordingly. So pointing out the glaringly cheap instrumentation would be harsh, had it worked. One of the first things that started giving me trouble was the trip-meter. The pin-like stiff button was hard and suspect from the get go, and resetting the counter had turned into a literally painful ordeal even before covering Mexico. As trivial as it may sound, since I didn't have a gps until Peru, it was my most valuable tool for determining gas stops. The jiggling and the wiggling worked only for so long and I eventually had to take the whole thing apart in Antigua. What I found inside was appalling, not only in terms of build quality, but also design.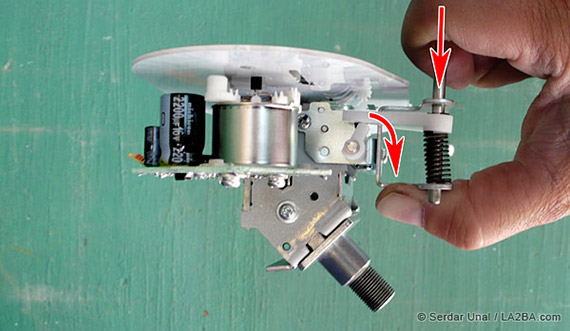 Unfortunately, the trip meter wasn't the only thing to give up in Antigua. The "FB" branded oem battery of my 4 month old motorcycle was no longer holding charge. Having it reconditioned got it working again, but in 2 more months it would die completely.
Looking back, now I know that finding the luggage rack bolts (on either side) loose was a clear warning that the two other bolts securing the rack vertically to the tail of the subframe had already snapped. But in Antigua, I just applied some locktite and re-tightened them instead of giving it much thought. It wasn't until Bocas del Toro that I realized why they kept coming loose despite all that blue Locktite.
The 10 kgs max load rating of the luggage rack is probably quite accurate, and bearing more than twice that weight, it would continue being a nuisance throughout the trip. Replacing the broken bolts in Bocas kept things in place for only a short while before they snapped again, making the upgrade to thicker bolts in Medellin mandatory. But there was yet another weak point: the flimsy metal frame underneath the rack, which eventually buckled and sagged. Finally, before the return trip through Brazil, the frame was reinforced with metal braces, and that was the end of problems with the rack.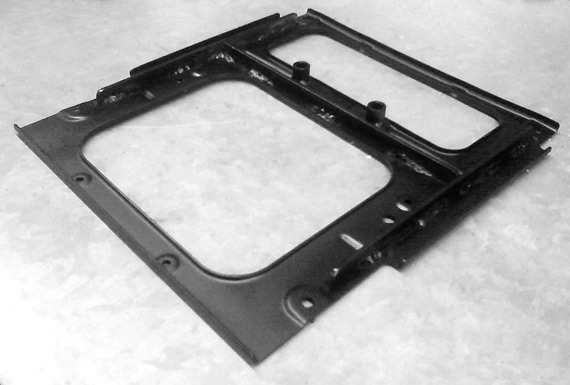 In conclusion, if you plan to use the rear carrier at all, be sure to make the necessary upgrades. Even if you do not anticipate to exceed its load capacity, keep in mind that some road surfaces can change the game significantly. Not to mention, you never know how plans will change along the way.
One thing that annoyed me about the new KLR was how blatantly superficial some of the "improvements" were. Like breast implants on an 80 year old, the plastic radiator shrouds are sad attempts to camouflage age, slapped on with total disregard to usability. Not only do they get in the way of any work to be done, but do so almost on purpose, as they are held together by a myriad of different kinds and sizes of nuts, bolts, and screws. The theme of hasty design is consistent throughout the body work, almost echoing a suit at Kawasaki saying "just make it look nice by noon and don't spend a penny!".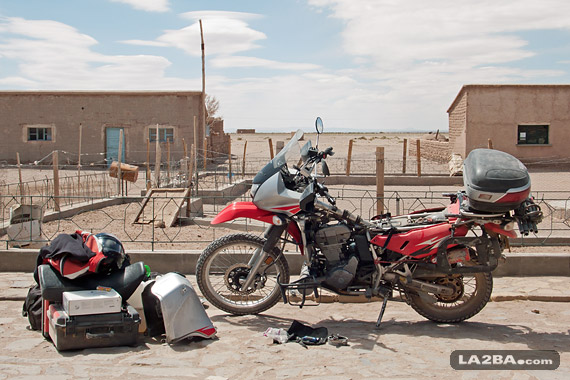 But getting annoyed from time to time is one thing, having to add oil to a brand new engine at every other fill-up is another. As I discovered in dismay, at a steady 5000rpm with 80mph on the clock (74mph actual), the KLR burns a liter (~1 quart) of oil in just 500 miles. At 4000rpm, the consumption becomes negligible, but so does your speed at around 60mph. And before you suggest a modification to final gearing, let me just remind you that under strong winds even sustaining that moderate 60 can be a challenge in 5th.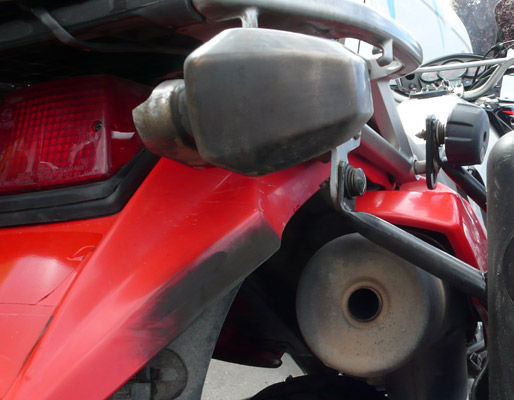 With unheard of courtesy, the wonderful team at Auteco (Kawasaki Colombia) inspected Kat's engine, and replaced the piston rings with a new set despite not encountering anything out of spec. Yet, the issue remained the same, confirming that it is an inherent weakness of the new piston/ring design.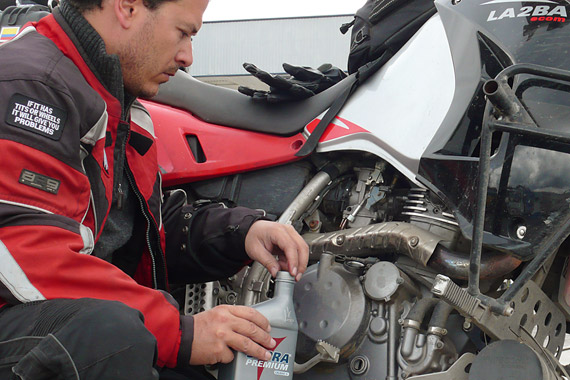 Before worrying about the oil consumption though, you should first question whether if you'd be affected by it. Many travelers I know ride within 45 – 65mph, even on an empty straight with nothing to look at. This not only saves fuel but also extends chain, sprocket, and tyre life. If this describes your riding style, chances are you'll be exempt from the trouble. Otherwise, you should be prepared for the 4/2 stroke experience.
No (Electronic) Brain, Still Headache
One of the main reasons for my choosing the KLR was its freedom from electronic gadgetry, since I dread electrical problems more than any other. So when the gauge needles started dancing around on the way back from Patagonia, I knew I'd be dealing with woo-doo. We were able to make it from Mendoza to Rio Cuarto where I somehow "fixed" it. But when you fix things and don't even know how, they come back to bite you at a worse time.
I didn't have to wait long. Riding through a town the next day, Kat suddenly died. The net effect was similar to hitting the brakes with no reason, and no brake lights. Once again, I was able to get her going with my magic touch. Days later, it would catch me again, in pouring rain, on a two laner full of trucks.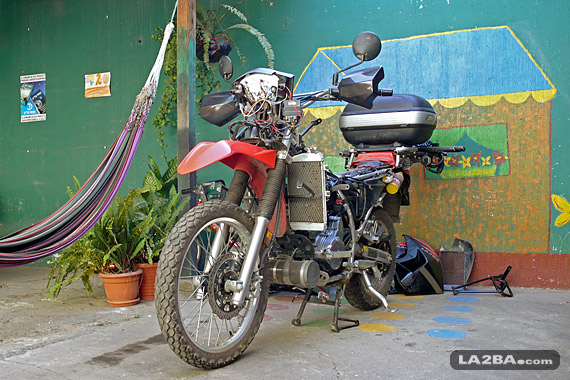 Long story short, I was hit by exactly what I was trying to avoid by riding a primitive machine. Had I not heard of the recall by pure luck, I have no idea how much time and money I'd have wasted before eventually replacing the entire wiring harness, which had self-destructed through abrasion. A replacement had to come down from the US and was not covered by the recall as the bike was out of the country. Much later in Brazil, despite the extra care and armoring I used, a similar problem would require a friend from the road to come to my rescue. So much for avoiding electrical woes by choosing a KLR.
A Trooper
Other than a weld on the exhaust due to washboard roads on the way to Machu Picchu, and a cleanup after the bad gas in Suyckutambo, most of the mechanical work required during the trip was simply routine maintenance. The carburetor needed a thorough cleaning after storing the bike for 6 months in Argentina, before the return trip through Brazil. I replaced the clutch set in Salvador at 35.000 miles, which I thought was commendable for a friction-plate type unit, considering all the weight and my immature riding style.
Thus, Kat did complete the 42.000 miles of the expedition with no mechanical breakdowns.
Speaking Too Soon
Hoping to continue traveling later, I stored her once again, in Colombia. When I returned after 8 months, the carb required another cleanup despite having made sure that the float chamber was empty when I left. Then, shortly after leaving Cali, I started having cooling problems at low speed, and had to haul heinie all the way to Medellin. The fan motor was fine, and replacing the fan switch or the radiator cap didn't fix the issue. So off came the crankcase, and plop, fell the water pump. The tip of the pump shaft was broken, which meant major engine work, and parts having to come down from the US once more.
Traveling again didn't happen for me, and after getting her ready for a new journey with new rotors, pads, tyres, and you name it, I had to sell Kat and return to US. She took her new owner all the way back down to Ushuaia with no problems, got sold again, and settled in Chilean Patagonia to keep roaming one of the most beautiful parts of the planet.
Why so harsh?
As I go over all the things I've written so far, even I can't believe how hard I have been on the motorcycle that has taken me through an entire continent almost without a hitch, on routes where I've come across stranded motorcycles that cost three times as much. But I think I know why…
No matter how advanced or tough, all modern bikes of today are sissies compared to those of the past which required nothing but some gas and a kick to fire up. The KLR was the last standing motorcycle close to the spirit of that heritage. When Kawasaki revised it, I had imagined an already tried and tested motorcycle becoming bullet proof to create a category of its own. Such romantic naiveté!
Motorcycles are designed and built around sales numbers. Kawasaki could have built a rugged legend out of the KLR, but very few would pay the extra dollars it would take. So, they gave us a new KLR with flashy looks, and not much in the way of smart design or quality engineering. As always, we got what we'd pay for, and the product that could have been faded out of becoming.
No Contest
Our love and hate relationship aside, the KLR has taken me on an incredible journey few other bikes can offer comfort on. Although I realize that you might expect me to arrive at a conclusion after dragging you through 2500 words, I'm afraid the whole experience has left me even less sure about the right motorcycle than in the beginning.
But I can at least tell you this much: somehow it all seems to work out anyway, and chances are, what you ride does not make a journey better or worse, just a little different.
As someone I know likes to say: What's gonna happen, right?