Many motorcycle travelers start planning their trips several months ahead. When the preparations begin, the to-do list seems to keep growing rather than shrinking, and time literally flies.
Back in 2007, when the idea of a motorcycle journey came up, the target destination automatically implicated a departure date only 2 months ahead. If I could leave before October, I could hope to make it to Ushuaia before everything froze.
To add to the challange, I neither had any gear, nor the motorcycle. Well, I did have a 1050 SpeedTriple at the time, but since that ride from Istanbul to Juan Les Pins on an FZR, I'd known better than traveling on a sports motorcycle.
On the other hand, not having a travel bike meant I could objectively evaluate my choices and get the one that fit the bill the best.
The Modern "Best"
Heading out into parts of the world where stocking spares for expensive toys is not of top priority, the no brainer is a need for simplicity. For every advantage modern technology provides, there is an associated risk of failure that significantly outweighs it. The argument that modern components are "reliable" is a moot point, because I'd rather have 5 components to rely on than 50.
Sophistication not only introduces more things that can go wrong, but it also makes things less repairable. Specialty tools, proprietary parts, and skilled engineers are pretty much guaranteed to not be there where you're going. Heck, it can be hard to find them even in L.A.!
I had bought my Speed Triple brand new, and to this date I remember her as the most inspiring, delightful motorcycle I have ever ridden. At the same time, no other bike had given me so many problems within just 4000 miles. One of her random fits in particular was absolutely irritating. Out of the blue, she would just refuse to fire up. After trying all the woo-doo tricks mentioned in forums, I took her to Triumph. The tech hooked her up to a hand-held diagnostic device, ran some tests, then told me that there was nothing he could do, as all looked normal.
This is the typical "service" experience with modern machinery. Your bike is sick. Perhaps she's completely mental, since they all have "brains" nowadays. But when you take her to be diagnosed, the procedure is to ask her "what's wrong"! And if there is no answer, the cure is very unlikely to arrive before you loose it too.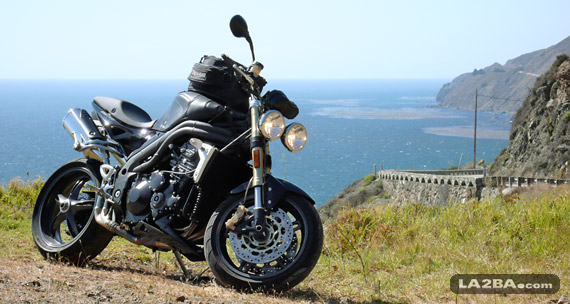 Now imagine heading out to the unknown on a motorcycle like this! Even if nothing were to go wrong, you'd never have the peace of mind. The one thing you don't want to be without on a journey could well be held hostage by your state-of-the-art "dream" machine.
But in an age where even keys are electronic, who do you turn to for a basic, reliable, and capable motorcycle?
The Price Of The Beast
Could your concerns be limited to mechanical or electrical troubles, you'd still be having it easy. Many other things can happen to a bike, from turning into a wreck to disappearing into thin air. (Insurance? That word just makes me laugh for some reason.) This is when the sticker price of a motorcycle becomes all important, because the question is not whether if you can afford the one you want, but whether if you can afford two of them! Suddenly, the dollar difference between your two options is doubled, and quite possibly now exceeds your travel budget for a whole year's trip!
Not to mention, the flashier a motorcycle, the likelier it is to be selected for "picking up". But there is yet another reason you may not quite want to be associated with a bike worth multiple years' income for many of the wonderful people you will meet: "separation". The cost of your motorcycle will be the second or third most asked question, and everytime I answered it, I was glad the number was a modest USD 5.500.
What I found interesting was how price and budget were important independently from each other, and that neither turned out to be the first eliminating factor when evaluating eligible bikes.
Traits Of The Ultimate Adventure Motorcycle
So what technical traits would make a motorcycle ideal for long distance travel that extends beyond the asphalt and city lights?
The unordered list probably everyone would agree with is:
High load capacity
Room for cargo
Long fuel range
Low octane fuel compatibility
Organic motor oil compatibility
Commonly available tyre sizes
Rims suitable for tubeless tyres.
Spoked wheels for strength and repairability.
Good weather protection
Comfortable riding position
Low weight
Easy maintenance
Easy access to battery, air filter, spark plug(s)
Electrical system that can support auxiliary equipment
Capable suspension
Powerful, torquey engine
Center stand + side stand
My list for LA2BA also included:
CV Carburated engine

Liquid cooled engine*
Minimal electronics (No TCS, ABS, or other BS)
Unused
A globally popular brand
Low enough seat height to tip-toe, preferably with both feet (I'm 5'04")
* Although liquid cooling adds complication and weight, after having fried an air cooled cruiser crossing the Sonoran desert a while back, I'd been considering it a requirement.
Sex And The Sticks
With bikes like the original Tenere and DR Big gone the way of dinosaurs, Bayerische Motoren Werke seemed to be the only manufacturer still enthusiastic about dual sport motorcycles, and with the new 1200 GS they had even succeeded to turn the image of the company around, from odd, old, and heavy, to outright sexy.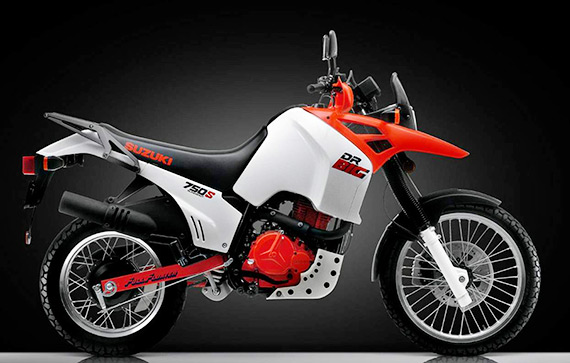 Admittedly, being a guy makes it really hard to choose reason over sex, and although I knew the GS twin was loaded with gimmickry to the teeth and cost an arm and a leg, I did go for a test ride in San Francisco. But see, I went there on the 1050 Triumph, a machine with a ton of torque, ruler-straight power curve, and telepathic steering. Immediately, the build quality of the GS stood out, making my bike look like a Jawa in comparison. After that though, it was all down hill for the BMW. Having to wrestle her into a curve, then trying to get her back up was the weirdest thing. Then, she made me giggle at the red lights, with that twitch at every twist of the throttle, unmistakably ancient boxer despite all the high-tech on board. The transmission was clunky, and the legendary power… A big fat yawn. Impressed with nothing but the power of the linked brakes, I was relieved that she couldn't tempt me out of my money.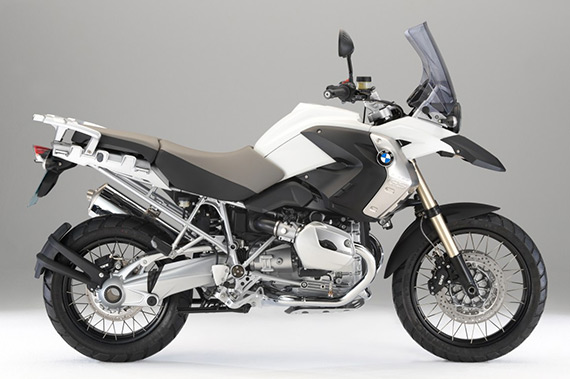 So, the first to go out of the picture was BMW, if only because Ducati and the exotic likes did not even get into that picture. True, there was also the F650, but it was essentially an unnecessarily complicated KLR for twice the money. Plus, who in their right mind would install 2 heavy exhaust canisters on a single-cylinder dual-sport motorcycle and expect to be taken seriously?
The one other option I considered briefly was the V-strom 650, but it offered neither the simplicity, nor any excitement. In the end, I think it boiled down to pure desire vs pure reason, and once the GS failed to impress, it was (all the way) down to the KLR.
Thus, I walked into a Kawasaki dealership and bought an '08 KLR 650 without even throwing a leg over. On the way back home, all I could think was "Oh boy, I'm going to South America on a very tall scooter with rubber forks".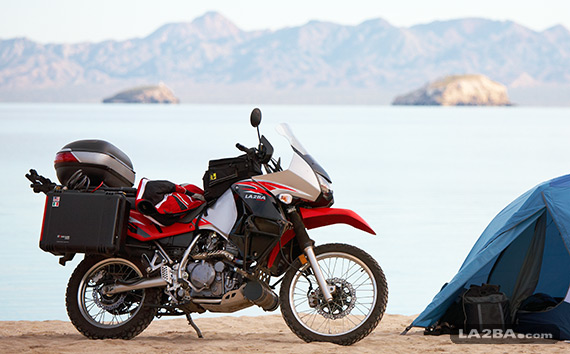 Ultimately however, it wasn't the performance shortcomings of the KLR that disappointed. I was expecting the KLR to compensate for those shortcomings by delivering dependability, and there, she let me down.
Square One
Fast forward more than 5 years and 42.000 miles, the dual-sport motorcycle class is booming, with many new objects of desire in the market, all racing each other for further sophistication. And unless you intend to build your own bike or restore a pre-owned motorcycle, you still have a single option for simplicity: the KLR.
As I now ponder hitting the road again, possibly heading to even more remote regions, I find myself where I had started, with the same list in hand. The ultimate adventure motorcycle might be an utopia, but how could I get closer to it this time?